Friday, February 3, 2012 at 1:40PM
Crazy, Stupid, Love promised kindhearted, if not benign, pokes at the unpredictable misadventures provoked by being in love. Helmed by directors Glenn Ficarra and John Requa, whose previous film I Love You Philip Morris was an effortless blend of cynical sweetness and charm, Crazy, Stupid, Love seemed like an easy homerun when considering the superbly talented cast they had assembled. Sadly, this film only serves to prolong Steve Carell's post-40 Year Old Virgin slump, joining the likes of Dan in Real Life, Evan Almighty, and Date Night in the actor's past mistakes.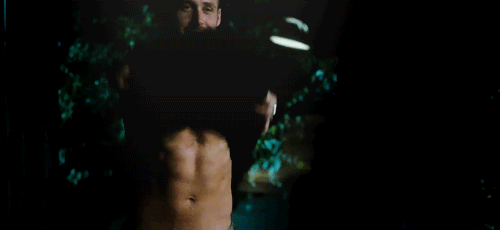 This Shirtless Ryan Gosling GIF should help get more web trafficIt is obvious Crazy, Stupid, Love prides itself on its candidness. Characters blurt out whatever is on their minds, and act upon any impulse no matter how foolish. The film begins with Cal and Emily Weaver (Steve Carell and Julianne Moore) out to dinner during one of the most ritualistic of 21st Century suburban events – the date night. When Cal unassumingly asks his wife what she wants for dessert, she compulsively exclaims she wants a divorce. It turns out Emily has been unhappy for quite some time, and even confesses to having had an affair with her coworker David Lindhagen (Kevin Bacon). Cal is understandably blindsided by these revelations; he is one of those dopey husbands that assumes everything is fine when no one is complaining. Apparently being a kind, caring husband and father is not enough for the new bourgeois American wife weaned on The Real Housewives and other such filth. This film's portrayal of men and women, husbands and wives, mothers and fathers are, simply put, disgusting.
This is a film where boredom is an understandable justification for divorce. Where we are expected to sympathize with a woman that kicks the father of her children out of his home without giving him any chance to mend their issues. Cal, having been cheated on and cast out from his family unit, is the one expected to "change," and to be the one that fights for the marriage. This is a film that glorifies Jacob Palmer (Ryan Gosling), a 20-something club-hopping womanizer who lives off of his dead father's inheritance. With no ambition beyond sleeping with every attractive woman he comes into contact with, Jacob is most likely a degenerate sex-addict, bringing home a new girl every night. For Crazy, Stupid, Love Jacob is a hero. He is the savior to Cal's humdrum suburban persona, and promises to help the hapless ex-husband learn how to meet women. This includes maxing out his credit card on new suits, and memorizing every manipulative line and mannerism to trick, I mean motivate women to sleep with him.
Crazy Stupid Love banner posterThis film quickly goes from bad to worse, adding not only a silly B-plot involving Cal and Emily's teenage son and the babysitter, but also a misaligned C-plot involving Jacob and the girl of his dreams (Emma Stone). It is by way of these useless and underdeveloped subplots that Crazy, Stupid, Love sacrifices structure and common sense for shallow twists and nonsensical character development. It tries to sell depravity as charm, and selfishness for self-reliance. It portrays women as shallow and superficial, men as emotionally unconscious boobs, and everyone as oversimplified instinctually confused wrecks completely incapable of empathy or self-restraint. This was the worst movie of 2011.